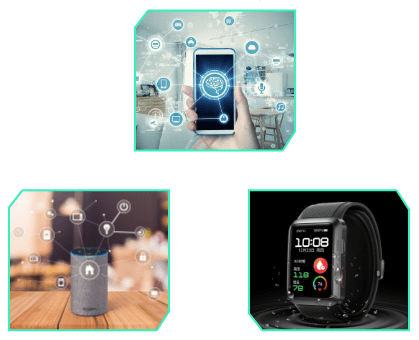 What is
Consumer Electronics

?

Your consumer electronics are around you, the consumer. Everything falls under a common head: Consumer electronics from your phone to kitchen appliances.
Why do you Need
Automotive Software for Consumer Electronics Solution?
We are experts in hardware design & development, embedded systems design & software development, AR/VR and mobile apps as well as web solutions.
For Seamless Connectivity
The world is connected with the IoT in every home & business. This connectivity makes our personal and work life much more convenient. For instance, these devices help you manage many parts of your work at your fingertips as there is end-to-end connectivity between your Mobile phones, DI, Systems, etc.
Advanced Digital Adaptation
Digital Transformation is an anchor to every evolution that will ever take place, and those who can't keep up with change will lose the game. Solutions from efour will transform your consumer electronics into smarter ones and bring an update at your convenience.
User Experience Evolution
Visuals hold their gaze and sell your offering. Your easy & captivating UX/UI is a key factor in your consumer electronics product development that will give you an advantage over your competitors.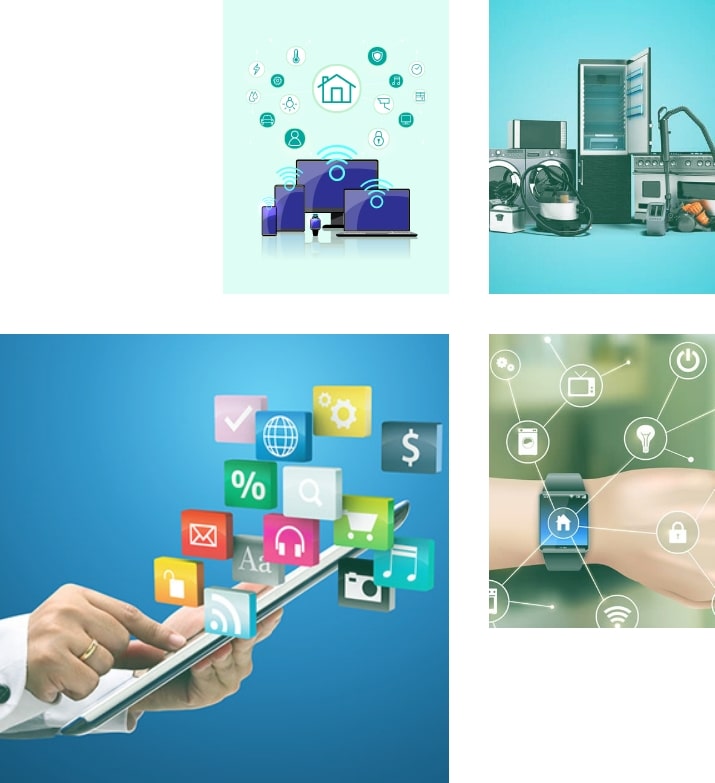 Our
Consumer Electronics Services

With cut-throat competition, your consumer electronics devices need to stand out. For that, they need to be top-notch in design, software, and integration.
Our expert team provides all-round services to help you deliver products that customers cannot resist.
End-to-end Design & Development: We provide you across-the-board electronics product design and development services for consumer electronics, including remote device management systems, fitness trackers, smart wearables, smart security equipment, and more.
Virtual Assistance Integration: We provide consumer electronics integration solutions with virtual assistants such as Alexa, Google Mini/Home, Control 4, Elan, Crestron, etc. Homekit, Chromecast, etc.
Mobile App Development: Today, mobile apps that allow end-users to monitor, control, and access all of their smart devices in a single place have become the need of the our. Our expert mobile app developers help you develop apps that come with a uniform interface and make it much easier to manage a host of devices through their smartphones.
Some of our other services for consumer electronics product development include:
UX/UI Crafting & Development
Integration of Virtual Assistant
Developing advanced Consumer Electronics and design
Certification: Pre-compliance & certification
Development, Operations, and Cloud
Benefits of Our
Consumer Electronics Product Development Services
The Internet of Things (IOT) is the future of how communication, comfort, and convenience will shape up. Our consumer electronic product development services and the IoT based smart consumer applications have evolved through leaps and bounds and have carved their niche in minimal human interaction and optimum comfort & convenience.
We pride ourselves as an 'all-in-one' electronics development partner to many consumer electronics companies. With the leading consumer electronic product development company by yourside, you can rest assured that you're getting nothing but the best consumer electronics solutions.
Engineering Expertise
With efour by your side, you are backed by electronics product development engineers that has helped hundreds of industries with electronics product development services.
Whether device connectivity, embedded software, or hardware development, we've got you covered in every department from end to end product development.
Custom IoT Solutions
Different consumers have different needs and thus, IoT solutions need to be customized. efour is your reliable consumer electronic design and electronics development partner in the quest to provide tailor-made consumer electronics solutions that make your customers happy.
Compliance & Connectivity
We help you solve your connectivity issues with expertise in protocols such as BLE, Zigbee®, Z-Wave, NBIoT, LoRa, Thread, NFC, MQTT, Ethernet, Wi-Fi, 2G/3G/4G/5G, and Wireless Mesh Technologies.
We help you with pre-compliance and certification procedures so that you can get your product market-ready in no time!
Enhanced User Experience
We emphasize creating smart product development that deliver the best-in-class user experience. Our consumer electronic design are psychologically-mapped to give an intuitive experience to your end-users.
Our electronics product development engineers ensure to provide high quality electronics design and development services.
Hire Smart Consumer Product Engineers
For all your consumer electronics product needs, connect with our product development consultant. Our product engineers are highly qualified and have years of experience developing smart consumer electronics product. They will help you develop smart consumer electronics products that meet your business needs nd will work with you from product concept design to product launch into market.
Frequently Asked
Questions