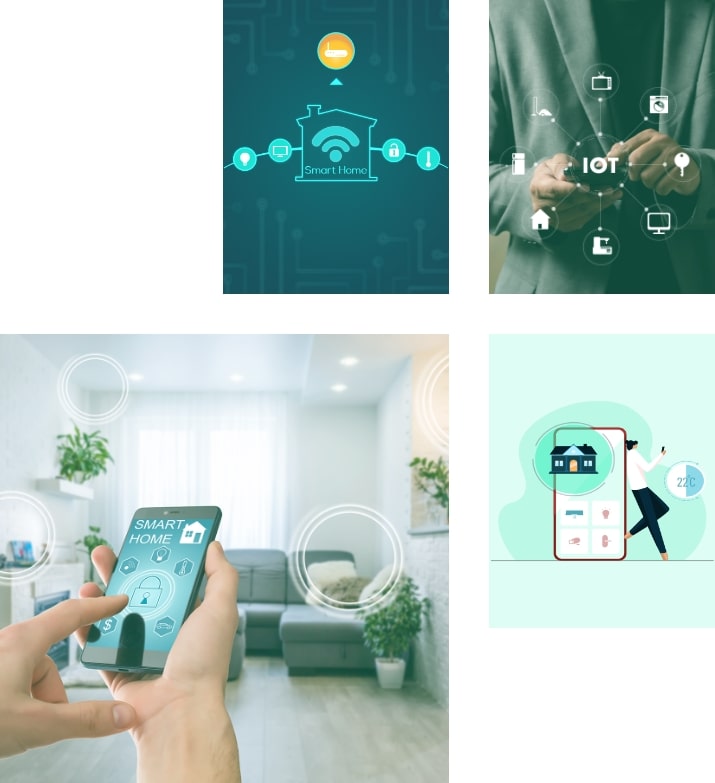 Why
Smart Home Automation

is the Need of the Hour?

The last few years have witnessed a proliferation of smart appliances such as smart TVs, home security cameras, voice-controlled speakers, and smart lights. They've made our lives more comfortable, efficient, and secure. They're essential to imagine our lives without. Things are just getting started.
The use of IoT devices in our homes has surely made our lives better, but it also raises a problem of management. That's because different apps manage these devices, and you have to use them separately. That's why there's an urgent and important need to integrate these devices to deliver a seamlessly integrated home experience.
To have a 'smart home' in a true sense, it should provide easy monitoring, control, security, and accessibility to the homeowner. However, this becomes quite challenging as customers use appliances produced by different OEMs. You need experts IoT app developer in smart home automation services to solve this issue and give a world-class experience to customers.
Thus, if you're a home IoT device manufacturer, you must meet many challenges such as ensuring inter-device connectivity, security & privacy and converting old legacy systems to smart ones.
All of this need to be done while reducing the time to market. You're bound to lag behind if you don't have a team that helps you keep pace with the latest automation technologies.
Our Smart Home Automation Solution

& Services

Whether you're looking for product design, programming, integration or a white-labeled solution, our smart home automation company is your ultimate destination for all your smart home automation needs. We help you to provide the best smart home automation system solution to convert your home into a smart home.
End-to-End Services for Home Automation Devices
Starting from the ideation stage to manufacturing, efour provides end-to-end automation solutions for designing, prototyping, and manufacturing sensors, peripherals, and hubs.
Designing of IoT Solutions for Home Automation
Our experienced engineering team helps you design IoT-based connected solutions on BLE Mesh, Zigbee®, Z-Wave, LoRa, Thread, NFC, Ethernet, Wi-Fi, and LTE/NBIoT.
White-Labeled SmartBridge Modules
We provide you with a ready-to-use white-labeled HomeBridge® gateway and RF connectivity modules that minimize your costs.
Mobile App Development
We develop mobile apps that allow end-users to monitor, control, and access all of their smart devices in a single place. It comes with a uniform interface and makes it much easier to manage a host of devices through their smartphones.
System Programming
We develop integration layers, embedded software, and device drivers to provide the best back-end support to your IoT-enableed devices.
Virtual Assistance Integration
We provide integration services with virtual assistants such as Alexa, Google Mini/Home, Control 4, Elan, Crestron, etc. Homekit, Chromecast, etc.
Why Choose efour for
Smart Home Automation Solution

?
Reduced Time to Market
Our well-defined processes and modules help you design and manufacture so that you can take the early-mover advantage.
All-Round Expertise
Whether it's design, integration, mobile app development, programming, or any other home automation-related solution, we are your one-stop home automation solutions partner.
Engineering Excellence
We leave no stone unturned to deliver excellent engineering solutions in every department. Our expert team of Engineers and Programmers have enabled us to become a trusted partner to many industries.
IoT Solutions that Fit Your Need
When it comes to IoT, one size doesn't fit all. That's why we offer customized home automation solutions that fulfil the exact needs of your end-users.
Hire Home Automation Engineers
Our automation engineers are specialize in using the advanced technology and provide innovative control solution for temperature regulation, lighting, shading, fans, AC, TV, home theatre, dimmer and access control. Our smart home automation engineers are specialize in lighting automation, curtain & gate automation, & security solutions. We offer smart switch solution that operate through your mobile phone.
Frequently Asked
Questions
The Internet of Things (IoT) allows users to automate many in-home functions employing smart appliances and the internet. These devices make life much easier by relieving customers of manual efforts.
The IoT-based smart home automation system is a network of smart devices that give homeowners an overall automated experience.
A smart home allows homeowners to control appliances, thermostats, lights, and other devices remotely using a smartphone or tablet. For instance, a smart coffee maker can be programmed to make you a coffee as soon as your alarm goes off.