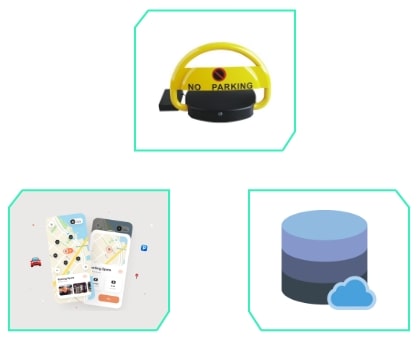 Abstract
Modern technology invention has entertained smart parking to smartphones, thus offering great convenience to car drivers. Our smart parking system fully integrates parking sensors, guidance, analytics, payments, and much more.
Smart Parking

: Peep into the Project

For big cities, parking problems are not uncommon. Due to the increase in car ownership, it is rugged to find a parking spot in densely populated spaces. Thus, after the successful implementation of the smart helmet and smart switches, efour came up with an IoT-based smart parking system.
With these smart parking solutions, drivers can easily get an empty parking slot resulting in time and fuel saving. The smart parking management system is a full-scope solution that pairs a network of sensors, live gateways, feature displays, and many more such elements with sturdy and inherent applications and web-based platforms.
On-going exclusive innovations add to our capabilities and reinforce a leading position for smart parking solutions in the market. Be it about SmartCloud, Service Packs, Smart Spots, SmartSensors, SmartSigns, or App & Map; we are here for you.
To put it short, our parking IoT management system is a one-stop-shop that unites drivers, parking facility managers, law reinforcement organization, and other stakeholders in a network.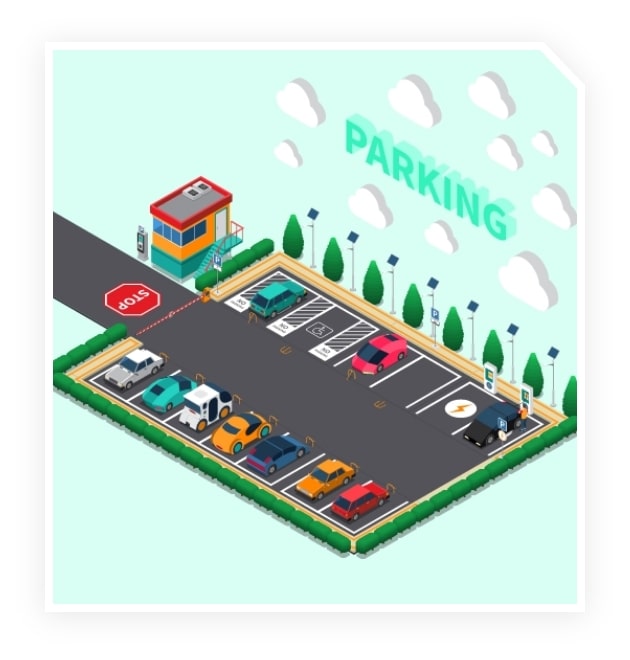 Stakeholders Benefited From
Smart Parking Technology
Airports
Corporate Builders
Shopping Centers
Universities
City Garages
Convention Center Owners
Startup Investors
Private Companies
Government Buildings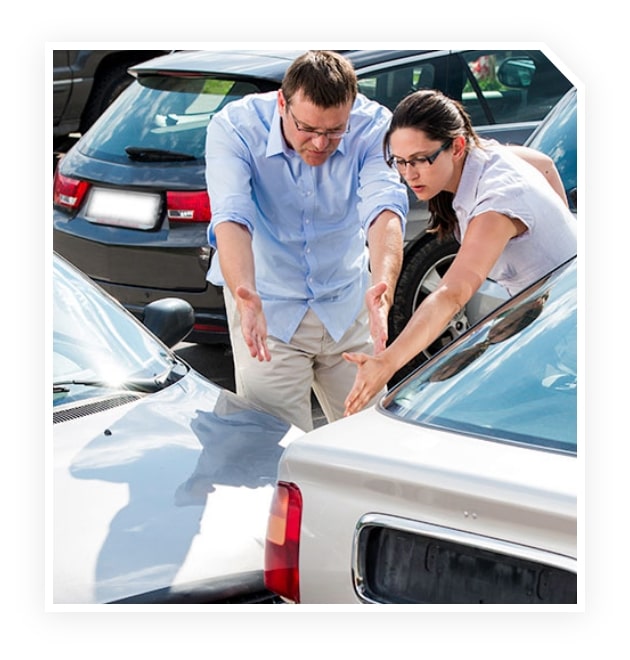 Customer
Pain Points for Parking

While conducting research for smart parking in IoT, we have come across piles of pain points that drivers were facing. Here we have listed a few of the user's problems which we tried to solve in our smart parking system.
Saturated parking spaces
Uneven allocation of handicapped parking
Economic and environmental impacts on parking facilities
Difficulty in finding a lot in off-street/on-street parking
Inefficient use of available parking space
Trouble in event parking spaces
Inadequate parking information for price and space
Perks of Blending
Smart Parking Booking System

in Your Enterprise

The smart park system combined with IoT comes with a fortune for enterprises as well as startup investors. Our parking application is designed in a way that drivers can seamlessly navigate and find a parking lot. Peep into the benefits of our enticing smart parking solution.
The ability to find a parking spot before reaching the destination is a great convenience.
Get an in-place navigation to reach your allocated smart parking car lot.
It reduces traffic as the driver exactly knows where they have to go.
Smart park will provide you with rich data sets to analyze peak times, forecasting, and reporting.
Smart parking systems include real-time and electronic payments, which make the parking experience seamless.
New possibilities of business model with a smart parking app
Reduced costs and overheads with an automated process for street parking
Smart parking combined with a smart environment to save nature from pollution
Prime Features of the
Smart Parking System
Our smart parking has covered every bit of features that are essential to enhance the user experience. We put the power of information into your hands with our exclusive and innovative features. Get into features and functionalities!
01 Advanced Booking Parking Slot
05 Sensor Data Collection
06 QR Scanning At Check-in & Check-out
07 Online Payment Options
08 Vehicle Identification
12 Parking Slot Time Extension
14 Subscription Plan for Daily User
Challenges & Solutions of the
Smart Parking Project
Building such a tech-driven smart parking solution is never an easy thing to handle. Though, our experts confronted the challenges and came out with flying colours. Let us share the challenges faced by our team while building the IoT based smart parking system.
1. Tedious to Interconnect a Large Number of Devices
We recognized that the smart park requires a lot of devices to be connected to a single network to get information about the booking slot. However, it was quite crucial to connect so many devices in a network through an array of routers in the beginning.
To tackle this problem, we leveraged a solution called "mesh connection" through which all devices can work efficiently despite not being connected to the internet individually. With mesh connection, the nearby device doesn't need to be connected to the internet, instead, it can send the signal to the device with the internet.
2. Assigning the Parking Spot Through a Map
It is quite troublesome to draw a map, and based on it let users book parking spot. Defining each hardware on the map and placing it in the lot area may sometimes create confusion and result in a wrong placement.
The easiest solution we found for the same was to draw a canvas on the map. After drawing the canvas on the map, assign the hardware numbers on the map itself. Henceforth, it will be easy to place the same number of devices in the parking area too. Users can seamlessly book the empty parking lot through this canvas map.
3. Manage Too Many Database Queries
One of the biggest issues that an IoT product or any battery-driven product faces is the battery life vs. size conundrum. Everyone wants a device that has the smallest battery size while offering the longest battery life.Basically, we use MongoDB as a solution to easily manage the data. But when it comes to handling multiple queries at a time a wrong table may be created or data is misplaced. It might result in inadequate parking lot booking.
Basically, with MongoDB, it is quite easy to manage the data. But when it comes to handling multiple queries at a time a wrong table may be created or data is misplaced. It might result in inadequate parking lot booking.
4. Showcasing the Navigation Path
Defining the exact route on the canvas map by showcasing every bit of details is somewhat difficult. It may lead to an unknown path as the accuracy is not maintained for drawing a route from the entry gate to the parking lot.
It took some time to find out a perfect solution, and tackle this challenge. First of all, we placed hardware wherever there are unknown or any other turns. Later, we used pixel by pixel to draw a path between the hardware. This way, we were able to showcase the navigation path with utmost accuracy.
Imprints of
Smart Parking System

on Your Enterprise

Our IoT smart parking worked as a fortune for many stakeholders and startups. IoT smart park implies the use of low-cost sensors, real-time data, and applications that automate the whole parking system and eases the work of drivers and stakeholders. Here is a list of benefits you will get with our smart parking solution.
Admin will receive a complete summary of the earrings, bookings, and more through smart park dashboards.
A smart parking system will integrate the complete user experience into a unified action.
Right from spot identification, location search, map to reach location, time notifications, payment, and more are part of the smart park system.
An automation process will save a lot of cost on labour work and resulting in more efficiency.
Easily handle the vehicle bookings and payments through the admin dashboard.
The parking lots are filled up efficiently and space is utilized effectively by corporate and commercial entities.
Smart parking system provides you with real-time data, thus lot owners know how to make the adjustments in peak times.
Whether the destination is an airport, retail shop, corporate office or anything, a seamless user experience will definitely add to the brand value.
Many new revenue streams are possible with a smart parking app for the lot owners.
Tech Stack Used To Create The Fabulous

Smart Helmets

IoT Product
Hardware




Firmware




Software




The future scope of smart park system
The deployment of smart parking solutions will continue to enhance in the future as it is one of the essential parts of smart cities.
In our smart parking solutions, we will be implementing AR (Augmented Reality) technology for creating a mapping function overlay on the images captured in the smartphones. These AR-based indoor and outdoor navigation will let drivers virtually check the path of the parking lot.
Adding more to it, capturing a vehicle's license number with Optical Character Recognition technology and directly opening the gate to the parking lot by guiding the driver will be an innovation in the smart park.
Being a leading IoT application development company, in our smart parking solutions, we will be implementing AR (Augmented Reality) technology for creating a mapping function overlay on the images captured in the smartphones.