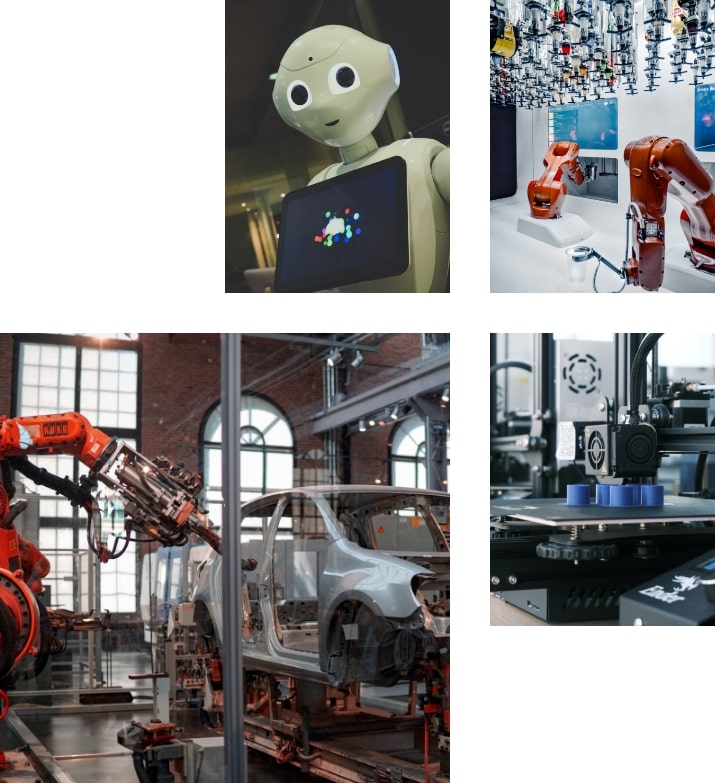 Why Are
Industrial Automation Services Vital for OEMs?

Industrial automation brings technologies like 5G, Artificial Intelligence (AI), Machine Learning (ML), and Virtual Reality (VR) that benefits OEMs in multiple ways.
Accurate and efficient processes.
Energy-saving manufacturing machines.
Enhanced design, engineering, testing, and prototyping.
Optimal human resource management.
In a nutshell, it makes your workflow less chaotic and more productive.
efour, as your all-in-one industrial automation partner, helps you with every aspect of the manufacturing process. We provide across-the-board industrial IoT services that include human-machine Interface (HMI) system development, IIoT device connectivity, real-time remote monitoring system, industrial IoT sensor integration, predictive maintenance solutions, and cloud integrations.
Our
Industrial Automation Services
Industrial automation involves many aspects, on the hardware as well as the software front. As your one-stop automation partner, efour provides you across-the-board automation services.
IIoT Implementation Strategy
We help you craft a custom IIoT implementation roadmap that helps you achieve your goals in the minimum time and cost. We consider every aspect of your business and industry to develop the best ideas for your business.
Full Cycle IIoT Development
Starting from the ideation stage to the implementation, our Engineering team helps you transform your plant capabilities at every turn of the road.
Developing HMI Interface
We help you build Human to Machine Interfaces (HMIs) so that you can easily operate and interact with machines.
Middleware Development
We help you develop middleware solutions, including infrastructure libraries, web applications, and databases to establish a secure network of IoT devices within your plant.
System Integration
With efour's system integration services, you can connect and bring the best out of sensors, IoT Devices, and various software.
Why Choose efour as Your
Industrial IoT Solutions

?

It's our passion for technology that has led efour to become a leading name across verticals and industrial automation is one of them. Here's why we make the perfect partner for your digital transformation journey.
Your All-in-One Automation Partner
We help you automate and digitize the entire process, including conceptualization, design, engineering, testing, and mass production. In short, we are your partners in automating your plant to help you deliver top-class products with the best ROI.
Proven Industrial Expertise
Our industrial automation services have enhanced the production facilities of many companies in different verticals. This has enabled us to understand the requirements and environment of various industries.
Industry Compliance
We leave no stone unturned in complying with industry standards such as OPENIoT, HomeKit, Thread, Nest, Alljoyn, Brillo and Weave.
Experienced Team at the Helm
Our expert team of Engineers and Developers come with immense experience and understand the nitty-gritty of various industries. With efour, you get access to the best talent in the industry.
Customized IoT Solutions
Every business is unique and so are its goals. We go all the way to understand your unique requirements and come up with tailor-made industrial IoT solutions (IIoT Solutions).
Hire IIoT Engineering Experts for IIoT Solutions
Looking for an expert IIoT Engineer for Hire? Our IIoT Engineers work closely with you to identify your business goals, analyze IIoT system capabilities, and prepare a detailed roadmap for the Industrial IoT Solution.
Frequently Asked
Questions
Automation in the manufacturing industry enhances efficiency, accuracy, safety, and flexibility. It also helps reduce energy usage and material wastage. Overall, it helps businesses deliver better products at a reduced time and cost.
Industrial automation software allow OEMs to control and update production processes and material handling systems. They allow operators to perform manufacturing processes remotely.
With many industries already embracing industry 4.0, it is the present and future of the manufacturing industry. Nearly one-third of businesses have already incorporated smart devices and embedded solutions in their processes.
The global industry 4.0 market is projected to grow from $116.14 billion in 2021 to $337.10 billion in 2028 at a CAGR of 16.4% in the forecast period, 2021-2028.