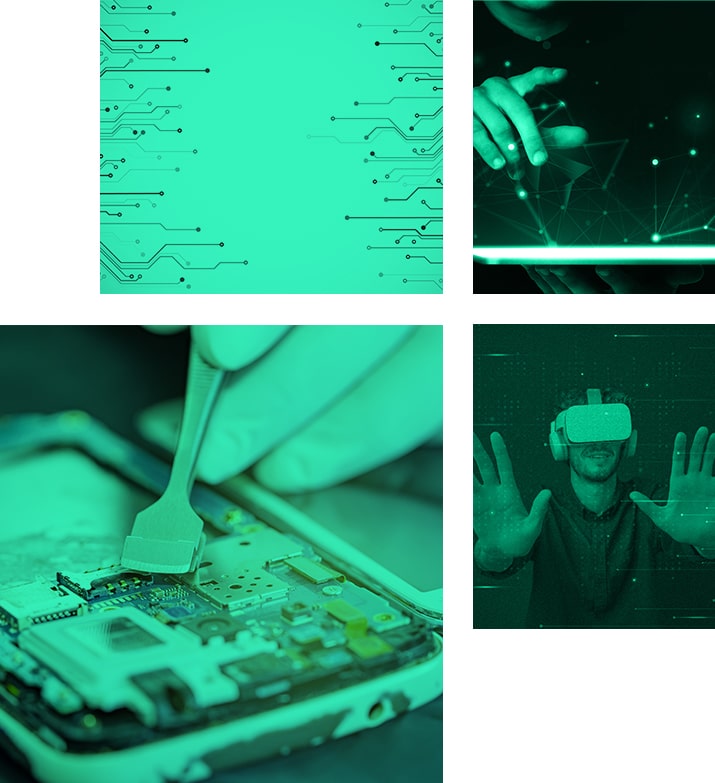 What We Do

We have been designing low-power wireless products for various industries for more than a decade. Keeping the power consumption low and making the device lightweight are our core values during the design process.
Our expert product designers design products using low-power wireless standards, including Bluetooth Classic, Wi-Fi, LoRa, GSM, and unlicensed industrial bands (ISN bands and 433 MHz).
Whether you want to optimize power consumption in your business or design low-power wireless products, efour is the answer!
Our Expertise in
Low Power Wireless Product Design
Our expert product designers and engineers have vast experience designing low-power wireless products. The following are a few reasons why you should choose efour for your low-power wireless product design needs.
Low Power Bluetooth Devices
As a company specializing in building low-power Bluetooth devices, we provide custom in-house PCB fabrication and assembly services and prototyping services.
Whether you need high-quality 3D printed models or fully-functional working devices, efour can help you bring your project to market.
Zigbee Product Design
Zigbee is an industrial wireless technology used for wireless communication between devices and is a widely used radio-frequency (RF) standard for home automation and the Internet of Things. We're a product design company specializing in creating high-quality, low-cost Zigbee IoT devices.
We're experts in IoT device design, software development, and testing, and our field of expertise allows us to create truly innovative and valuable products for our customers.
Battery-Powered Industrial IoT solutions
We offer a range of battery-powered IoT solutions such as remote monitoring and control, asset management, predictive maintenance, industrial process automation, and energy management.
We're experts at various IoT technologies such as Z-Wave, ZigBee, Thread, BLE, WiFi, and others.
Low Powered Medical Devices
We are the one-stop-shop for medical device development. Our team is designed to provide a turn-key solution for those looking for an outside design and engineering partner.
Expertise in these devices ranges from power requirements, electrical circuits, software programming, mechanical design, process automation, etc.
Why Choose efour for
Low Power Wireless Device Design?
We have the experties in low power wireless device design since so long. We believe to provide high quality electronic product design services to our all the clients from a variety of verticals.
Seasoned Team of Developers & Engineers
Experience is the best teacher, and we've got plenty of it. Our team comprises experienced designers, developers, and engineers who have decades of experience in designing low-powered electronic devices.
Across the Board Industrial Experience
efour develops a range of connected devices and software applications, servicing a variety of verticals, including Industrial IoT, Consumer IoT, Health IoT, Smart Cities, Transportation IoT, and Agriculture IoT.
Expertise in Latest Technologies
We believe in staying a step ahead when it comes to technology. Our team is highly experienced with the latest technologies such as LoRa, Zigbee, WiFi, Bluetooth, and more.
Own Your End Product IP
When you choose efour as your partner, you fully own your IP. Thus, you can stay a step ahead of the competition and remain flexible for future modifications.
End-to-End Solution
Whether designing, prototyping, software, or hardware, you don't need to go to any other place when you work with efour. Our in-house teams take care of it all.
Hire Product Design Engineer
Want the best-in-class product designer to exceed your expectations and that can design premium quality low power wireless products for your business? Hire one of efour's best product designers to design world-class low-powered products.
Frequently Asked
Questions
Low-power IoT devices are those that consume less power than traditional IoT devices. They're designed for critical battery life applications, such as wearable devices or industrial and agricultural settings. Low-power IoT devices typically use less processing power than their traditional counterparts, and they often communicate using protocols that require less bandwidth.
One of the critical benefits of low-power IoT devices is that they can be powered by energy sources other than batteries, such as energy harvesting techniques. This means that they can be used in applications where it's not practical to replace or recharge batteries regularly.
There are several reasons why low-power is used in wireless communication. One reason is that wireless devices are often used in portable applications where battery life is a crucial concern. Another reason is that wireless devices typically operate at much lower data rates than wired devices, so they can't afford to waste power on unnecessary signal processing.
LoRa, Zigbee, WiFi, and Bluetooth are the most popular low-power wireless technologies.